10 Ultimate Must Have Accessories For Your Model 3
25th August 2020 - Dom Sutanah
A stock or factory Tesla Model 3 has a really bland and unappealing appearance. This is because of several reasons, some of which we've highlighted here. Whether by design or out of sheer obligation, the blandness necessitates pimping, but not a complete overhaul reminiscent of MTV's Pimp My Ride. Instead, it's just small tweaks that, combined, make a very aesthetically appealing electric vehicle.

The kind of pimping we recommend is an improvement of your Tesla Model 3's appearance, both on the interior and the exterior. In this article, we've curated the 10 ultimate must-have accessories for your Tesla Model 3, particularly for the interior.
1. A selection of floor mats
Our floor mats cater to your preferences, whether you're a vegan or not, without compromising on quality, style, comfort, and luxury. Our vegan leather floor mats are made from the highest quality synthetic fiber, guaranteed to offer stain and stretching resistance.
You could be using your Tesla Model 3 as your family car, or you could be considering purchasing it for this function. As a result, you may be worried that your children could ruin the vehicle's interior since kids are just that, kids. You are in luck since our vegan leather mats won't get stained whenever your children are playing at the back.
We also offer premium leather mats. You can choose from our range of 6 colors that include black, white, red, red wine, brown, and light brown. Also, our Tesla accessories store features 2 variants of all-weather mats, namely the premium/luxury and budget variants.
Whichever type you'll choose, the installation will be seamless and hassle-free since the mats have been precision cut to ensure that they're exact fits. Furthermore, you don't have to worry about buying hooks, Velcro, or 3M tapes since our mats are custom made for the Tesla Model 3 and subsequently snuggle into place.
---
The stock Tesla Model 3 features a deep storage area in the center console. The depth makes it particularly hard to access vital personal items, e.g., your sunglasses or your phone on short notice or even coins while at a drive-through with an impatient employee somewhat angry at you for delaying the queue. Furthermore, the fact that it's a large space makes mixing up of your valuables very easy and this could even lead to some of them getting destroyed.
Luckily, we have the exact item you need to reduce these risks and issues, a storage solution in the form of a box. It's custom-made to fit inside this space, thereby reducing the depth to enable you to store your wallet, coins, phone, sunglasses, and keys.
Our box also ensures that the coins don't rattle at even the slightest of movements because it clamps them down using a spring-loaded system. It's also advantageous because it still leaves some space beneath it for you to store other items.
---
Door sills are particularly susceptible to scratches and scuffs. They're usually the first parts to get scratched in a new car. For this reason, we offer protective door sill trims and scuff plates.
Besides providing protection, the trims are stylish. The carbon fiber trim is particularly is guaranteed to give the interior of your Tesla Model 3 an upgrade that espouses elegance and style. The red accents greatly enhance these parameters.
But do you feel that this combination of colors isn't suitable for your interior? Well, you can also choose from two other color options, that is, black titanium and matte silver plates with blue accents. Also, there are a total of 8 pieces that'll cover the inside and outside of all the 4 door sills.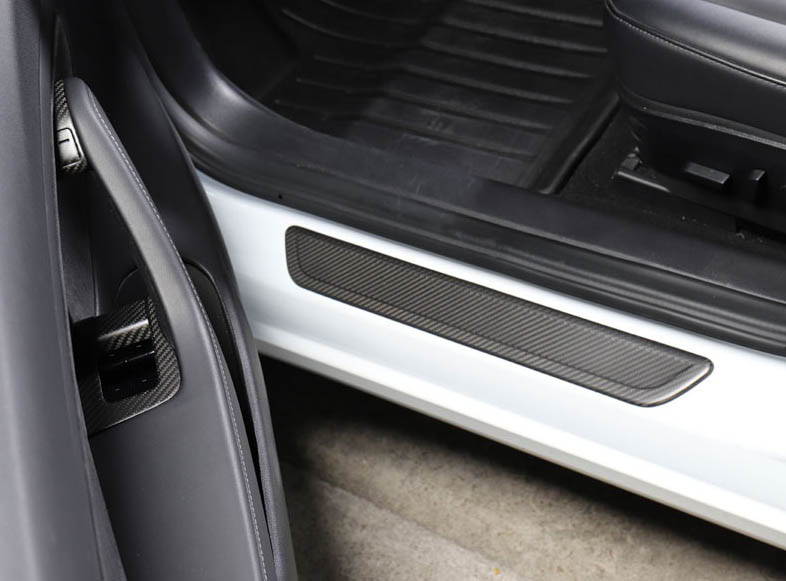 ---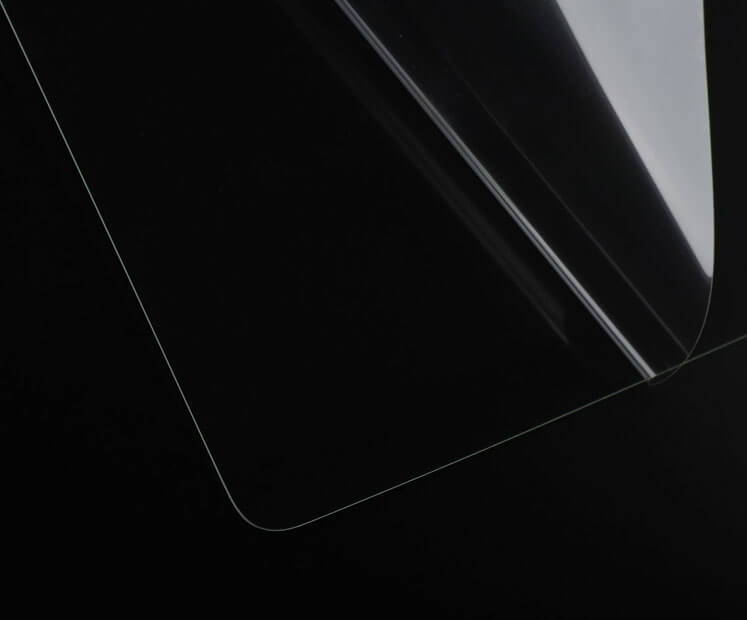 A Tesla Model 3 features a 15-inch display, which, like the door sills, is prone to scratches. Enter our tempered glass custom fit screen protector. It's fingerprint-proof, so it won't require constant wiping. The glass is engineered such that it doesn't shatter and this will subsequently safeguard you and your passengers.
---
5. Trunk storage organizer
Our trunk storage organizer has a capacity of 30 liters and is ideal for grocery shopping. You really don't have to worry about your shopping being all over the place after visiting the store. And you can compartmentalize the storage into two parts, creating sections that you can store items that shouldn't be placed together.
Also, this product is made from vegan leather material, which gives it an elegant-looking luster without compromising quality and resilience.
What happens when you don't have any use for it but still want to use your trunk? The storage organizer is foldable. As such, when not in use, you'll just unfold it, creating a flat surface on which you can place other pieces of luggage.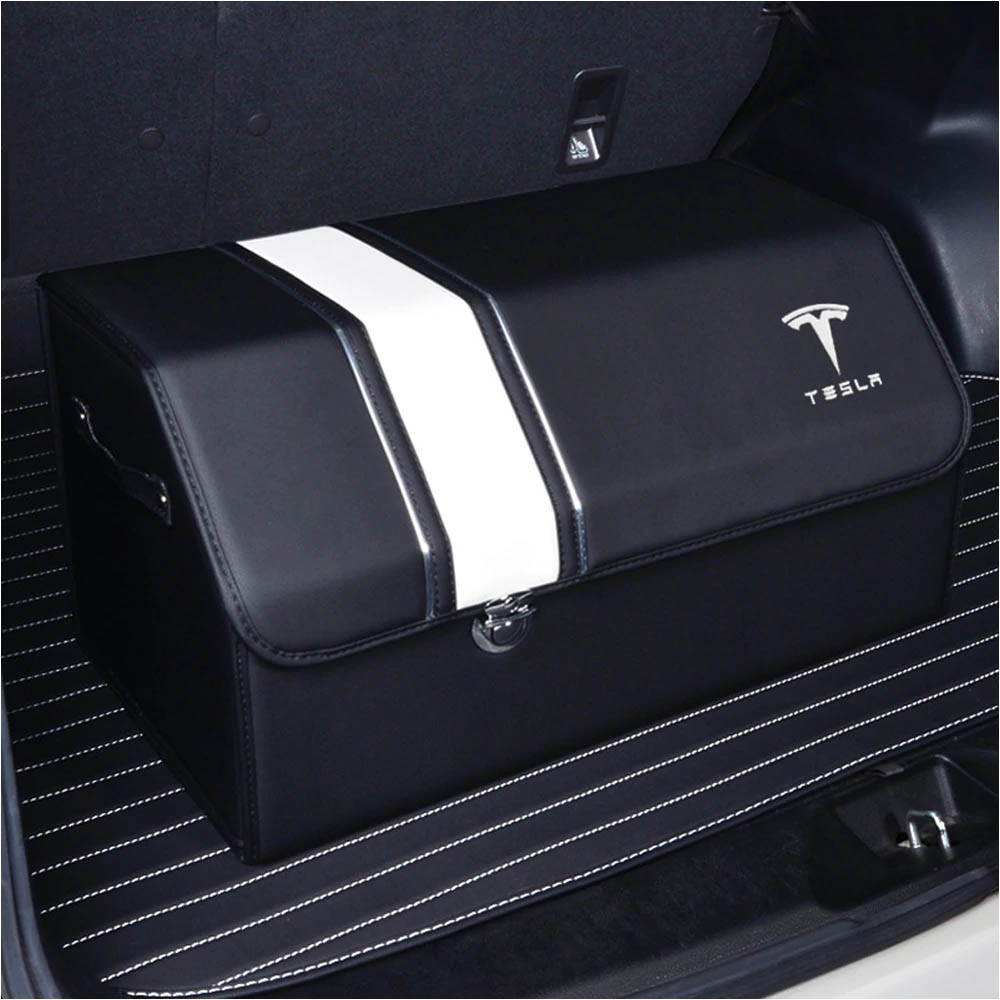 ---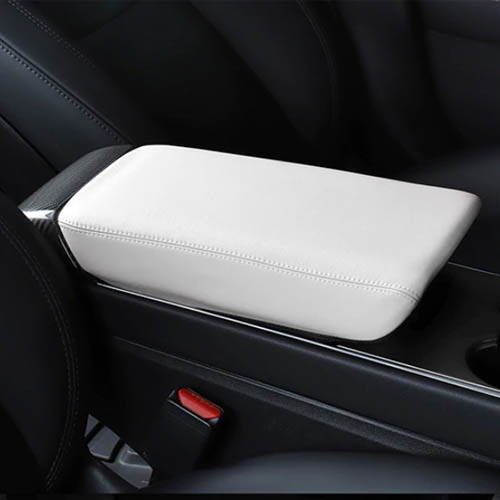 Did you know that the armrest is the most leaned on part of the car whenever driving? The stock armrest has a leather lining/covering. We've told you the benefits of carbon fiber and why Tesla owners love this material. To ensure that you maximize the number of carbon fiber accessories that you can have on your Tesla Model 3, we offer armrest protection covers.
Our covers are guaranteed to give your Tesla interior a unique look. When coupled with other interior carbon fiber accessories, which you can also find on our Tesla accessories store, your passengers will always wow at the resultant, unfiltered elegance.
---
7. Motorized cell phone charging mount
Our cell phone holder clasps your phone securely regardless of its size. The cell phone holder is suitable for phones whose screen size is between 4 and 7 inches. Further, the holder enables reachability and visibility from whichever driving position. As such, you can receive incoming calls or navigate through the sat-nav seamlessly. In case your phone doesn't support induction charging, the holder's setup is such that it's clamped to the Tesla screen, and a wire is then directed to your phone's charging port from behind the screen.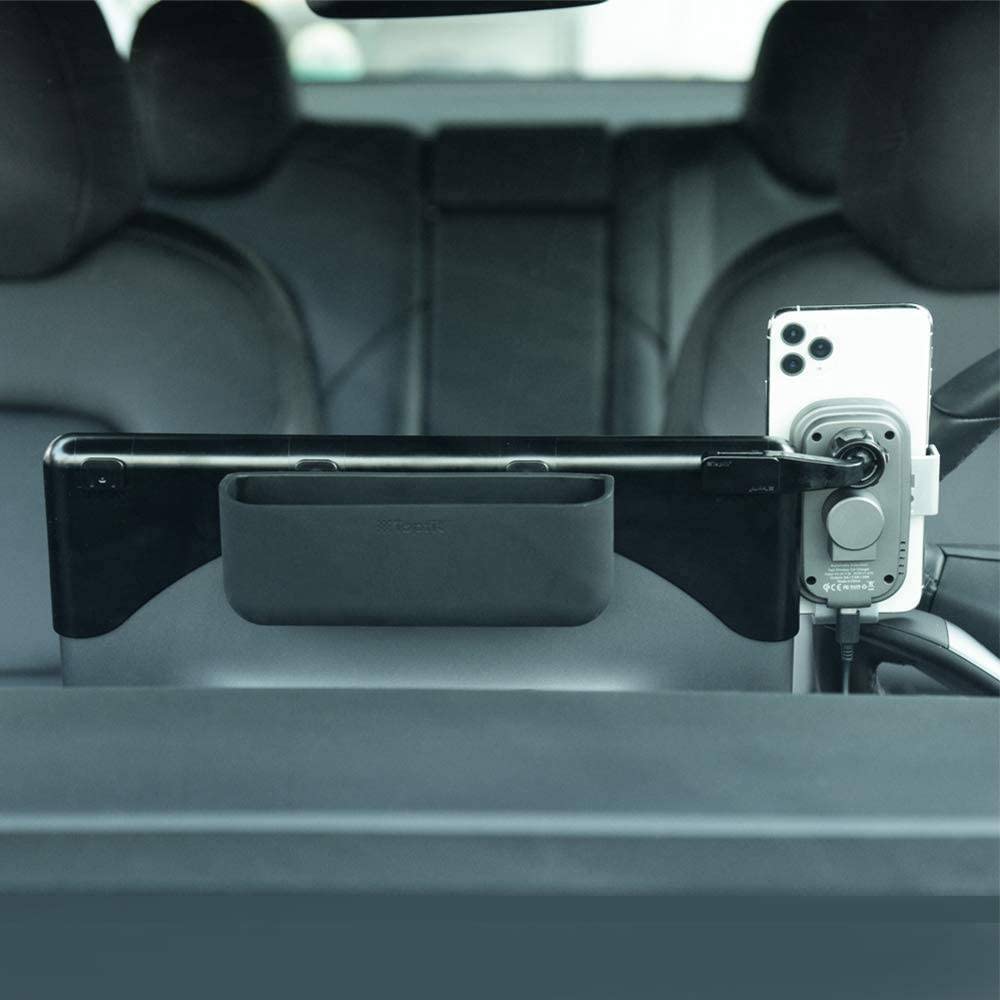 ---
8. Multiport USB Hub with Sentry
Do you look at your center console storage area and wonder how you'll organize it? Do you find the number of USB ports that Tesla has provided in the Model 3 limiting and an inconvenience? Well, our multiport USB hub is exactly what you need. It's a must-have accessory for the Model 3 which only has 2 USB ports, given the fact that it has the following 5 USB ports:


1 USB-C Connector

1 USB-A connector that is positioned inside a secret compartment

3 USB-A Connectors
The secret compartment is meant to store a dashcam SSD or flash disks away from snoopers.  
The hub is designed in a way that ensures it fit snuggly inside the center console, under the stock wireless charger. It's so well-designed and tailored for the space that it looks like a stock product.
---
The factory-made center console covers are glossy and reflective. The reflective surface is definitely a distraction when driving. The covers are also fingerprint magnets that require constant wiping.
Our center console cover deals with these problems perfectly. The cover also protects the shiny factory-made surfaces from scratches and scuffs. It comes in 7 color options and you, therefore, have a wide array to choose from depending on your interior. It's a perfect fit for your Tesla Model 3 and is bound to give your interior an aesthetically pleasing unique look.
---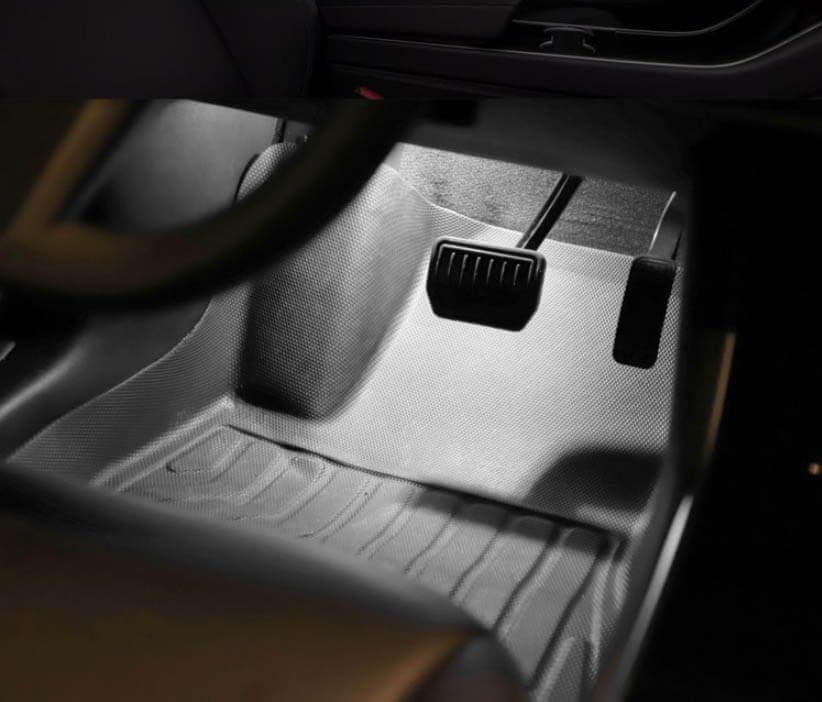 Make your interior stand out (get it?) with our assortment of LED lights. They are 16 times brighter than the stock LEDs and have guaranteed longevity and clarity because of their build quality. You can choose one of three colors that include white, blue, and pink cherry blossom.
What are you waiting for? Visit our Tesla accessories store and cop yourself several if not all 10 ultimate must-have accessories for your Tesla Model 3. They are so good that you'll never regret investing in these products. Trust our word on this!
---